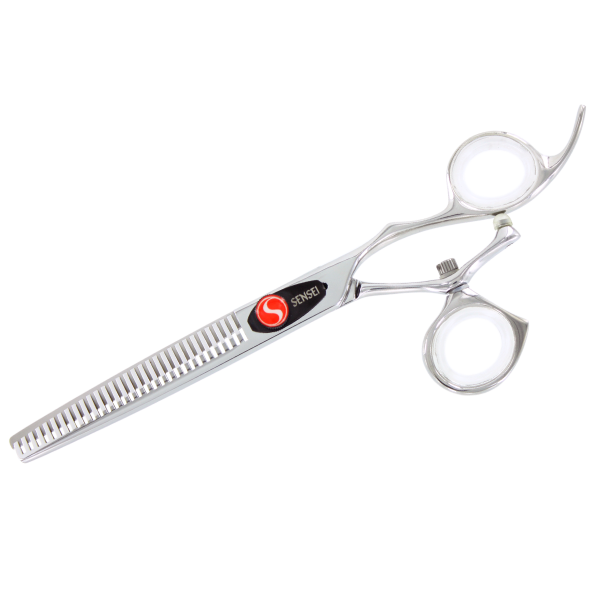 The SG's handle is designed with a subtle curve that follows the natural curve of the hand, allowing your fingers to rest comfortably, while still giving control and support. The thumb on this shear is brought forward to keep your hand more open and relaxed, and allows the hand to fully rotate without ever compressing the palm.
The SGT30 is the perfect thinner to match your SG shear. It is offers greater control over weight removal by not taking too much hair with each cut. Very user friendly.
This shear is designed to help keep your body in an ergonomic and relaxed position, and gives the user complete freedom of movement to create complex and intricate haircuts.
Made from a high grade and durable Japanese 440c stainless steel, this shear give you everything you need to start working ergonomically.
This shear comes with a FREE case!
The SG Collection of haircutting shears is the beginning of our pioneering rotating thumb design. As the company that first created rotating thumb shears, we designed this shear for stylists to try a new ergonomic way of cutting. The SG's handle is designed with a subtle curve that follows the natural curve of the hand, allowing your fingers to rest comfortably, while still giving control and support. The thumb on this shear is brought forward to keep your hand more open and relaxed, and allows the hand to fully rotate without ever compressing the palm. Hand therapists around the world are recommending that stylists use rotating thumb shears to help reduce the risk of carpal tunnel and repetitive strain injuries. This shear is designed to help keep your body in an ergonomic and relaxed position and gives the user complete freedom of movement to create complex and intricate haircuts with the elbow down instead of up also taking stress off of the neck. These rotating thumb shears are made from a high grade and durable Japanese Molybdenum stainless steel alloy to give you a durable long lasting shear. By making the health of your body and hands a priority we must use the right tools to help us achieve that. With this shear collection it will give you everything you need to start working ergonomically at an affordable price. The cutting shears in the SG Collection come in 5.5" and 6.25" sizes. Also to accompany those is our well loved SG 30 Tooth Blending/Thinning Shear. We hope if you're ready to try out an ergonomic shear that this collection finds you. We know you can beautifully decorate this world, in a safe and ergonomic way - one cut at a time.

Peace, Love & Sensei