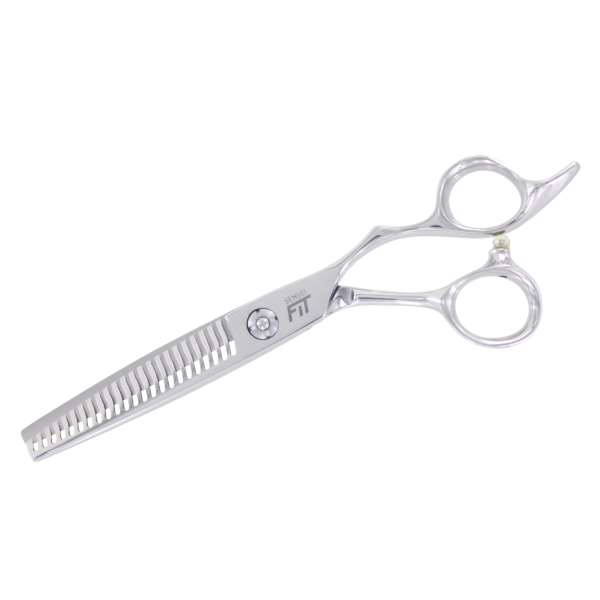 The SENSEI FIT 23 tooth Seamless Blending shear is a marvel. Designed with our unique Soft Slide™ technology, they cut without leaving any visible line. The Soft Slide™ straight blade fans the hair across the razor sharp teeth so no two hairs are cut to the same length. These blenders can also comb out in wet or dry hair without a hint of drag for a better client experience. They will revolutionize how you use a blending shear.

FIT shears are designed to fit the average stylist without the need for any plastic finger rings. Beautifully sculpted to fit every contour of your hand. The Japanese Molybdenum alloy, SENSEI Cryo Tempered blades, are very durable. The pivots are lined with polymer inlays to eliminate metal to metal contact and extend the like new life of the shear. The ball bearing tension system provides blade stability and longer edge life.
Check out the FIT Shear Set to pair with your favorite cutting shears at a 10% savings!
This shear comes with a FREE case!
The one and only SENSEI FIT shears were designed and created by the long over due call to action from many stylists and even barbers that wished to have a smaller finger ring size option. To feel the steel and materials of your shear for some artists is an absolute must during their creative process. These haircutting and specialty shears are intentionally fabricated to fit the average stylist without the need for any plastic finger rings or inserts. Beautifully sculpted to fit every contour of your hand and house the fingers in a space that feels like a true extension of the hands. The style of the design also mimics our tried and true Tao Series shear with one point of stability on each blade. This allows for safety and confidence when cutting inward towards the palm or cutting on the skin of a client. Many have told us these shears for that reason make cutting clients that tend to move or squirm just that much easier. The Japanese Molybdenum alloy it is made with offers a long lasting durable shear to take with you into the future. SENSEI Cryo Tempered blades also increase the amount of durability the blades can withstand from the moment they are made. The pivots are lined with polymer inlays to eliminate metal to metal contact and extend the like new life of the shear. Without the polymer inlays in the pivot area the shear will over time wear down from the grinding metal and eventually become imbalanced and unfixable. The ball bearing tension system provides blade stability day to day and assists in keep your blades sharper longer. Like all of our shears the FIT Collection has a LIFE TIME WARRANTY on all the inner workings, parts and craftsmanship of each shear. The FIT Shear Collection is available in fixed handle models which are a timeless classic feel and rotating thumb options. When using the rotating versions of the sculpted rotating thumb ring, it allows you to work in every cutting angle with the elbow down and wrist straight. For those just starting to consider a more ergonomic rotating shear, the FIT Collection is a great start since the shear is very well balanced and fitted to the hand. Many of our Sensei customers making the change to a rotating blade have found comfort in these shears with ease into a new technique. Along with the three cutting blade options 5.5", 6" & 7" we also offer a slide cutting shear with all the same benefits. For our specialty shears we have the 17 Tooth Blender and of course our #1 selling 23 Tooth Seamless Blenders. We can't wait to hear how much you love the feel of these shears like so many others. The true testament to these shears is from the personal testimonies of many stylists and barbers around the world. We thank each and every single one of you that asked us to bring this kind of a shear to our industry.

Peace, Love & Sensei