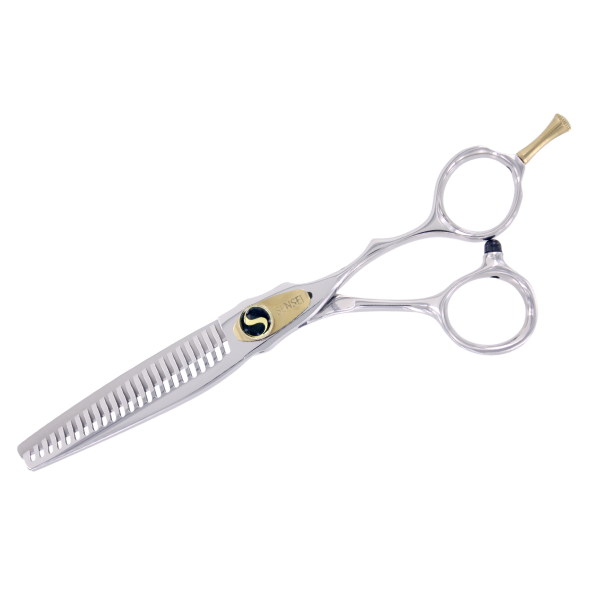 The GSC 23 tooth Seamless™ Blending Shear creates a soft blend with no lines left behind. It combs out with zero drag too, so this can be your go to shear for softening every cut and achieving a natural finish in every cut. This is truly a jaw dropping shear to cut with. Polymer lined pivots eliminate metal to metal wear, making these shears last so you can invest in expanding your tool kit rather than replacing your shear. The GSC is part of SENSEI ManeStays™.
This shear comes with a FREE case!
A timeless collection of shears for over 35 years. Put to the test of time, these shears will last your career. As a pioneer in our industry, the GSC changed the way many shear companies today look at ergonomics. This collection puts a modern spin on a classic offset handle design. It takes stress off of your thumb by allowing for a shorter travel distance when making each cut. With this design you can also reduce the elevation of your elbow in many different cutting techniques to minimize the tension from wrist to neck. This shear maximizes ergonomic comforts while still maintaining a classic feel. Made from Japanese Steel, we combine with a high quality Molybdenum alloy to create a shear that has maximum durability. A leaf spring tension system allows you a top knob to make any tension adjustments easily. The pivot area has a polymer inlay to avoid the metal to metal contact the shear makes when opening and closing. This makes the shear feel smooth and buttery when using and also will extend the life of the pivot area. The less metal to metal contact- the less wear on the metal slowly grinding away, eventually making the shear imbalanced. All points of this shear from tip to finger rest have been created with intention to last. We know you will love any shear in this collection based on our feedback for decades from the professionals like yourself around the world. With our LIFE TIME WARRANTY on all the inner workings and parts of the shear you can take comfort in knowing your tools are backed by a company that created these shears with thoughtful intension and love of the industry of beauty. Share your skill with the world and create works of art with each and every cut using the right tools. This collection is full of any shear you need to achieve every technique. Choose from our cutting shears available in a variety of blade lengths to seamless blenders, texture shears, thinning shears, and slide cutting shears. Everything you need to create a thoughtful toolkit to last your career!

Peace, Love, & Sensei.