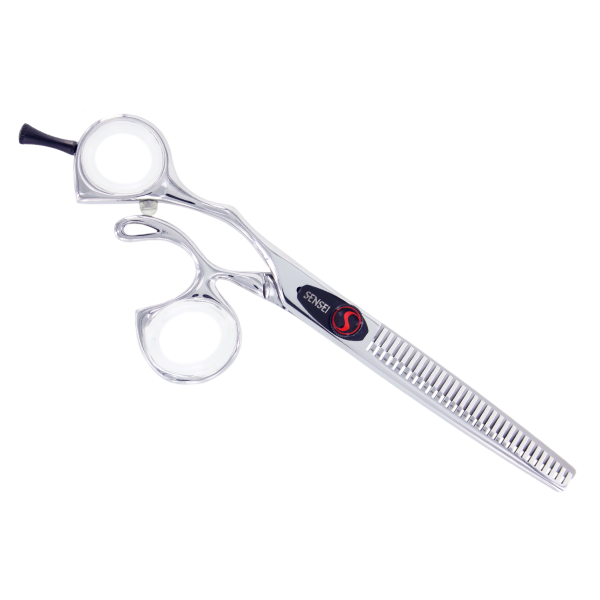 This shear's handle is designed to mimic your hand at rest. At Sensei we make it our mission to push the limits of design, to help you push the limits of your art. This shear takes the idea of an offset thumb and extends it forward to where you thumb naturally sits at rest. This removes pressure from the palm of the hand and reduces muscle fatigue. The open neutral thumb position also removes 75% of the travel distance to open and close the shear, and is built to maximize your efficiency and minimize stress on the hand. The NG is the first step to a healthier, pain free, way of working. The NGT30 is a non aggressive thinner/blender that gives the user control and takes away the fear of removing too much hair many thinning shears cause.
Made from a high quality Duralite™ Japanese stainless steel. The tang on this shear is removable and adjustable with the option of a traditional tang as well as the full neutral position. The NG is part of SENSEI FUNdamentals™
This shear comes with a FREE case!
The NG shear is your entry into a new way of cutting and is also known as a Neutral Grip shear. This shear's handle is designed to mimic your hand at rest. That means the hand is relaxed and in an open position as in a wave or even feeling the wind flow through your fingers. At Sensei we make it our mission to push the limits of design, to help you push the limits of your art. This shear takes the idea of an offset thumb and extends it forward to where your thumb naturally sits at rest. This removes pressure from the palm of the hand and reduces muscle fatigue. This kind of pressure can also build up into the wrist all the way to the elbow and neck causing discomfort while working. The open neutral thumb position also removes 75% of the travel distance to open and close the shear, and is built to maximize your efficiency and minimize stress on the hand. The NG is the first step to a healthier, pain free, way of working especially if you need a more ergonomic shear, but aren't quite ready to get into a rotating thumb shear. Made from a high quality Duralite™ Japanese Molybdenum stainless steel that is durable as well as light weight. The tang on this shear is removable and adjustable with the option of a traditional tang as well as the full neutral position. You can enjoy this shear in either a 5.5" or 6.25" size for your cutting blade. The specialty shear to accompany it is a very loved version of our 30 tooth blending/thinning shear. This set is a perfect pair of tools to take priority over your craft as well as your hand health. Like all of our shears the NG Collection has a LIFE TIME WARRANTY on all the inner workings and craftsmanship of the shear. Try them out and let us know how wonderful ergonomic shears can feel as well as perform! Decorate the world with ergonomic tools, one cut at a time.

Peace, Love & Sensei