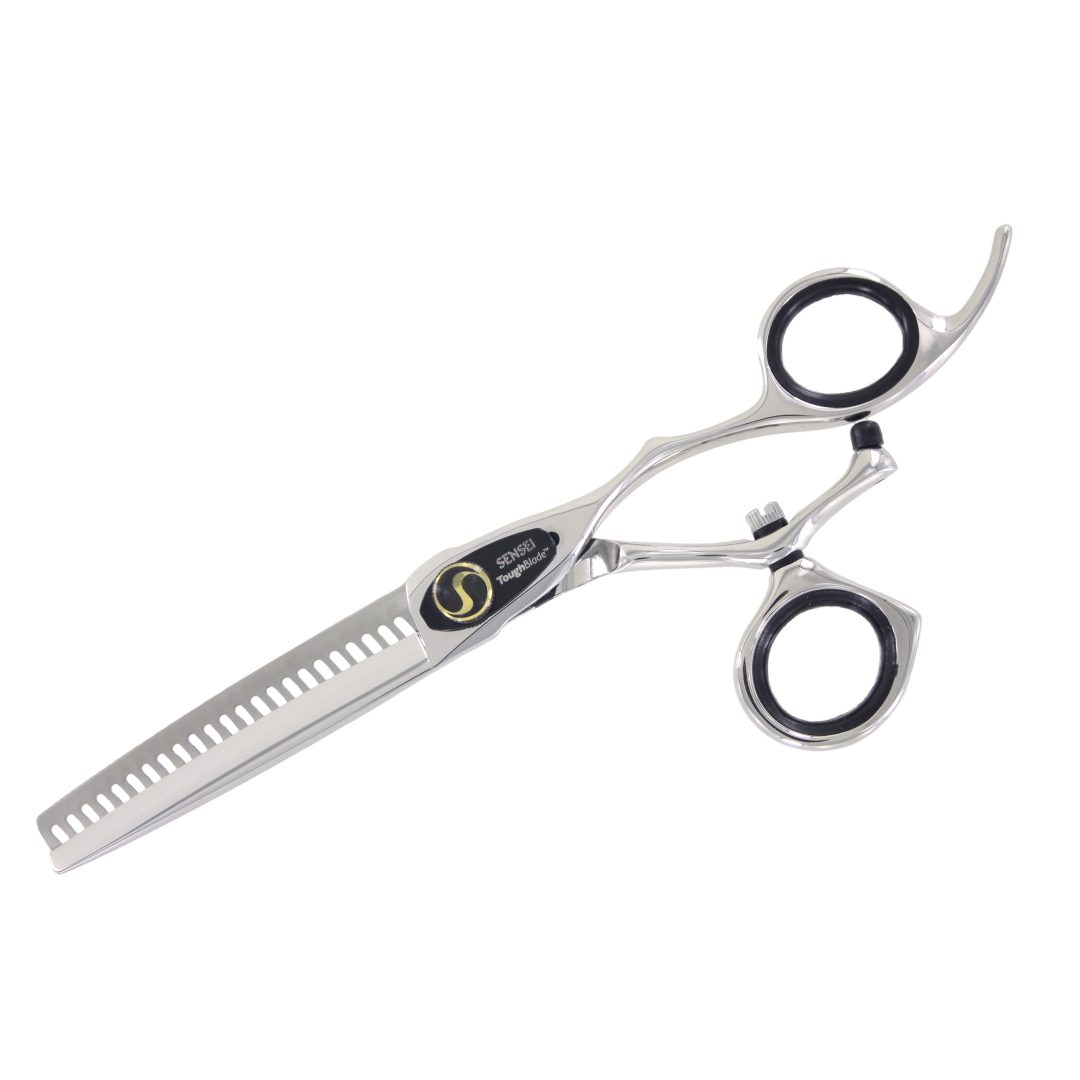 Take your thinning and blending game to a whole new level. Introducing the SENSEI ToughBlade™ Reverse/Euro 23 Tooth Seamless Blender™. Everything thing about this new model is next level. Made from SENSEI Proprietary Ultra Pure Cobalt/Molybdenum/Vanadium alloy, this will be the last blender you will ever need. Pivoting on our Zero Gravity™ Ball Baring Tension System, with wide Polymer inlays eliminating metal to metal contact, this shear should last forever. The three year edge warranty lets you know this is a durable shear that can go years between servicing. By having the straight blade on top, you can more easily cut hair held between the fingers or shear over comb. Another game changer from SENSEI.
Check out the Sensei Toolkits and Sensei Shear Sets to pair with a new cutting shear or another favorite specialty shear for an additional savings!
This shear comes with a FREE case!
SENSEI introduces the all new GSC ToughBlade™. These shears were created to give the hairdresser or stylist an upgraded option from our famously loved, timeless classic GSC & SWIVL Collections. Everything about these hair dressing shears have been upgraded. Let us first talk about the material as we are the first to combine these elements of quality steel especially in combination with the new SoftCut geometry blade finish. The steel is an all new ultra pure combination of Cobalt, Molybdenum and Vanadium steel. Because of the quality of those components mixed together in combination they have a three year warranty on the cutting edge! You will only have to service these shears once every three years! And like all of our designs finished with Cyro-tempered technology for an overall outstanding shear from tip to finger rest. We at Sensei stand behind our craftsman ship and inner workings of all our shears with a LIFE TIME WARRANTY. You will love the unique feel of using these shears with every single cut. The shears pivot on our Patent Pending Ball Bearing Zero Gravity Tension system. They also feature Ultra Wide Polymer Inlays in the pivot area eliminating even more metal to metal contact extending the life of your shear. Overtime shears without the polymer inlay can grind together and cause the metal to wear down creating imbalance in the shears' pivot area and eventually won't be fixable with a sharpening service. The life span of our shears that include this feature is a must-have when deciding on your investments for your career. The Crane and Rotating Crane handles have the hand made sculpted feel that all SENSEI users love & appreciate. In addition to a rotating thumb and fixed handle options for cutting shears and specialty shears - we offer three different blade lengths for cutting shears 5.5", 6", 7". For our specialty designs we offer a fully upgraded Slide Cutting Shear and our two most popular shears - the 23 tooth seamless blender and the 14 tooth PointCut texture shears. With these #1 sellers it was important to a lot of our stylists and barbers to have the option for upgraded features and materials for these tools that they rely on for every haircut. In addition to those specialty shears we also launched the 23 Tooth and 14 Tooth in our Euro-Style for those that prefer the techniques of a reverse option. No matter which you choose we know you will love any of the shears that are in this collection. As designers and manufacturers we are so proud to bring this collection to the industry at a direct, affordable price with all the upgrades. May you decorate the world with the right upgraded tools, one cut at time.

Peace, Love & Sensei